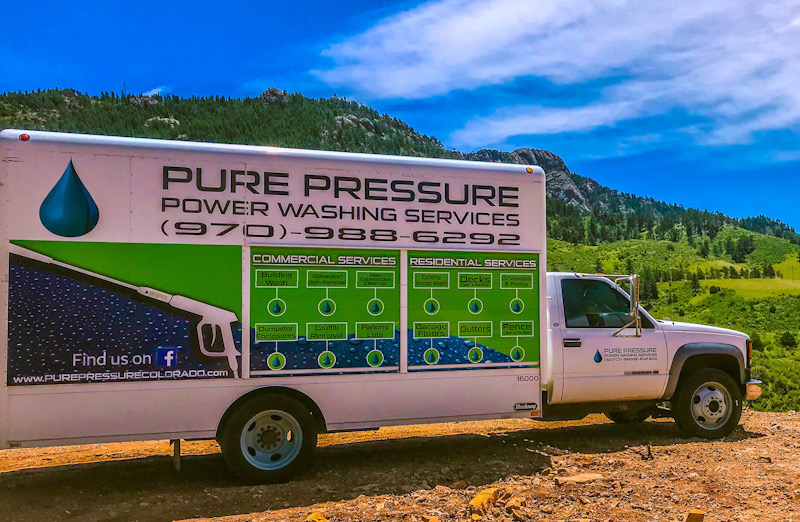 The #1 Pressure Washing Company Serving Northern Colorado & Surrounding Areas
Pure Pressure Power Washing is your #1 Choice for High Quality, Reliable, Power Washing, Pressure Cleaning & Exterior Restoration Services!
Why Choose Pure Pressure For Your Wash Service?

Pressure washing & power washing are techniques used to clean a surface, however not all copmpanies are the same when it comes to utilizing those techniques! As a highly trained pressure washing service provider, Pure Pressure takes a unique and innovative approach when servicing customers needs.

A common mis conception in the washing industry from a customers perspective is the fact that pressure washing can and will damage property and surfaces. The answer is Yes pressure washing can damage surfaces when performed by untrained and un educated operators.

Techniques such as soft washing, hydroscrubbing/surface cleaning, mold & mildew removal, oil stains, paint prep and more all should be done with special techniques that will not harm the surface.

Take a house wash for example

House Washing Process


After inspecting the home & surrounding areas we will use state of the art hot water pressure washers and professional grade environmentally friendly soaps and detergents to clean the exterior of the house in combination with low pressure cleaning system to remove dirt, grime, mold & mildew, cob webs and other organic & inorganic stains. Typical process would include:

Locate exterior water sources in circumstances that the our onboard water supply runs dry.

Caution tape or cone off any areas that may need so.

Wet down the house exterior and all adjacent areas with water.

Pre-treat stained areas with environmentally friendly cleaners.

Clean surface areas using lower pressure, 100 degree plus water at 8GPM with a stainless steel, 40 degree fan spray nozzles.

Apply environmentally friendly soaps and detergents on remaining surfaces to be cleaned.

Clean all surfaces using low pressure wash system.

Rinse down plants and surfaces surrounding work area.

Inspect the house for quality assurance.

Our system for pressure washing and exterior house washing is extremely thorough and will remove all surface dirt, mold and mildew and other contaminents/stains. Some stains may have penetrated the pores of the surface and they may not fully vanish. This is a small example on a method that sets us apart from the competition!

The Benefits Of Hiring A Trained Pressure Washing Company!

We use Low-Pressure cleaning techniques on sensitive surfaces.

We use state of the art equipment to prevent damages and increase performance.

We provide better quality as a result of years of training and expiernce.

We provide the highest level of customer service and satisfaction the industry has to offer!

Look What Our Customers Are Saying!

Heather Peters

Positive: Professionalism, Punctuality, Quality, Responsiveness, Value

Our HOA hired PPPW to clean the exterior of our buildings, and our walkways/sidewalks.
Jeff was very prompt in returning our calls and answering all our questions about the various choices and procedures. We highly recommend their services. Our homes look wonderful!

Lee Kaplan

Positive: Professionalism, Punctuality, Quality, Responsiveness

Jeff and his team are very personable and professional. They did a beautiful job of removing years of cobwebs and a summer of ash from the stone on our house. They also cleaned sandstone and concrete after 20 years of wear. We will definitely use them again and recommend their services.

Tom Hayes

Positive: Professionalism, Punctuality, Quality, Responsiveness, Value

Always on time and easy to work with, Pure Pressure does a very thorough and professional job every single time. I've worked with a lot of different companies over the years and would recommend Pure Pressure for all your power washing needs.

Joshua Green

I have nothing else but amazing things to say about Pure Pressure Power Washing! Jeff was absolutely amazing! He was very quick and responsive through emails and the quality of his work was hands down some of the best I've seen. He also works very quickly and effective, I would recommend him to any other business and I look forward to being a long time customer with this company!!
| | |
| --- | --- |
| Residential | Commercial |
| Fence/Deck Wash & Stain | Gutter Cleaning |
| Graffiti Removal | Brick/Masonry Cleaning |
| Fleet Washing | Aluminum Brightening |
Mobile Pressure Washing Services Include:
Pure Pressure offers pressure washing in Fort Collins, Loveland,Greeley, Windsor, Longmont, Berthoud, Wellington, Estes Park, Cheyenne and surrounding areas. Call Today to Schedule A FREE Estimate or Sample Wash on your upcoming project!